We can all agree that 2016 was a crappy year. There was Harambe, a seemingly never-ending election season, and the deaths of greats like Prince, Bowie and Alan Rickman. There was also the Zika outbreak and hurricane Matthew – just to name a few.
Thankfully though, 2017 is on the horizon and the 12 hunky heroes of the Australian Firefighters Calendar are going to help you forget all about the-year-that-must-not-be-named. In fact, 2017 is going to be the best year yet because January through December you're going to get to stare at men in (half of their) uniforms cuddling puppies. It doesn't get better than that, does it?
You can feel good about indulging in this calendar too because money raised is going to help child burn victims at Australia's Children's Hospital, abandoned puppies through the RSPCA, and help veterans in need through Mates4mates.
These aren't even the top, steamy pictures chosen for the 2017 spread – but, it's a scorching sneak peak you're sure to enjoy. Take a look at the 12 chiseled firefighters who are going to ensure 2017 is awesome, and hot.
Mr. January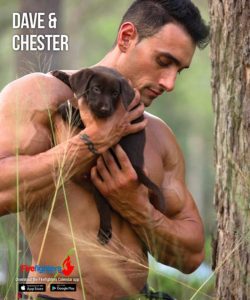 Dave is going to help you start the year off right. The 35-year-old firefighter travels the outback putting out fires on mining sites and gas fields. He's done 4 tours in Iraq and Afghanistan – so raising funds for fellow veterans through their partners at Mates4mates is something he holds close to his heart.
Mr. February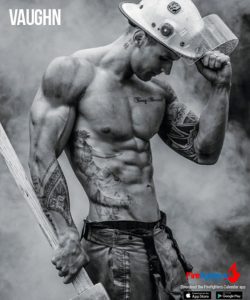 Why, hello there Mr. February. Vaughn is a 23-year-old dad wrangling kids and fires in Newcastle. He's also a 7-time junior bodybuilding champion – so, getting in shape for the calendar wasn't anything new. He fought for a spot in this year's calendar to be a good role model for his own kids, and raise funds for little ones affected by burns.
Mr. March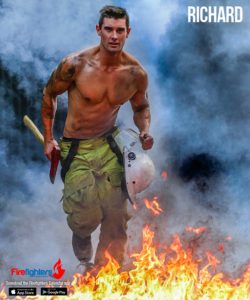 Is it getting hot in here? It feels like March just got a whole lot hotter. Richard is a firefighter in Brisbane, and also runs a local business that supplies calendar firefighters and other gym goers with essential supplements for training. The 33-year-old is a dad-to-be and was inspired to do the calendar because his mother has been collecting them for years. So, why not give it a go, right? We're sure glad this surfing firefighter did.
Mr. April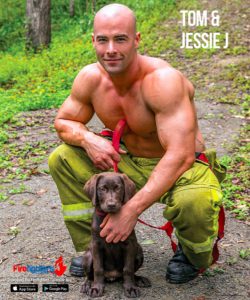 What's cuter here? Those dimples or the dog?
Meet Tom, the former swimming and bodybuilding champion. During the week the 32-year-old fights fires in Melbourne and works as a personal trainer – and on the weekends he's a volunteer surf lifeguard. A man who does it all!
Mr. May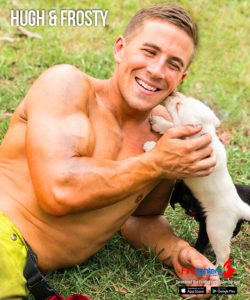 Just when you thought things couldn't get any better, Hugh comes along. This 24-year-old is a 2 year veteran of the calendar, and last year he was the organization's biggest fundraiser. No surprise there – look at that smile! Hugh just joined the Australian Army, but he previously spent some time in the USA swimming for West Virginia University.
Mr. June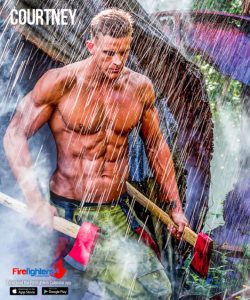 Bring on the heat! Courtney is a former Australian Rules Football player turned Melbourne firefighter. But this sporty, and hunky hero also has an artistic side. When he's not saving the day you can find him creating stunning airbrush artwork. He's single too, ladies.
Mr. July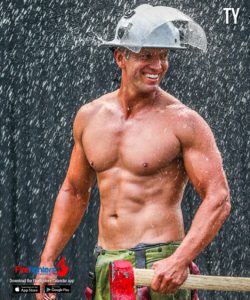 As if July wasn't hot enough! At just 33, Ty is a 10 year veteran of the Queensland Fire Service and a dad to two little kids. Ty tried out for the calendar for his grandmother who used to love collecting the calendars and donating to local organizations. Needless to say, his participation is helping boost sales in her honor.
Mr. August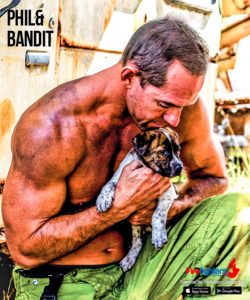 Come late, Mr. August and his hot bod aren't going to be much help cooling you down. Phil uses his athletic physique to fight fires now, but he spent a decade building up stamina as a Rugby League player for the National Rugby League's, Canberra Raiders and Gold Coast Titans.
Mr. September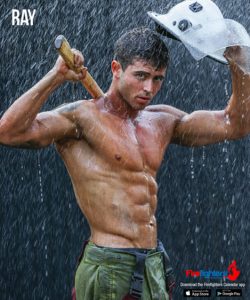 Ray, the 23-year-old North Queensland firefighter, brings on the heat. Those chiseled abs aren't just from lifting weights, though – he's a 3rd generation blacksmith welding beautiful works that he sells for the Firefighters Calendar charities.
Mr. October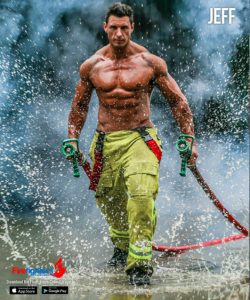 Jeff might have massive muscles, but this firefighter's got an even bigger heart. Formally working as a flight attendant and currently an aviation firefighter, the army veteran spent 6 weeks building a school in Nepal this year.
Mr. November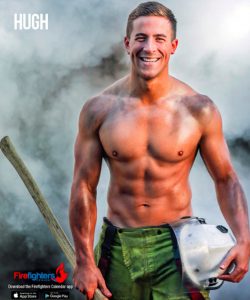 So nice, Hugh is a calendar boy twice. No complaints here! We don't mind seeing that smile, or those abs, for another month.
Mr. December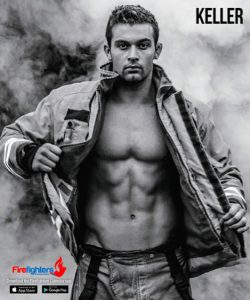 Celebrating the holidays with this hunk up on the wall will be quite the treat. Keller, the 26-year-old Sydney Airport firefighter, also moonlights as a Judo and Jiu-Jitsu champ. He even represented the Australia at the world titles in Dubai. Oh, and he's smart too. He wants to work for NASA one day.
The Aussie firefighters are going to make your year and the year of many others whose causes they donate to. If you want to purchase a calendar and donate to some amazing causes click here.